Work platforms, Earth moving machines and Cranes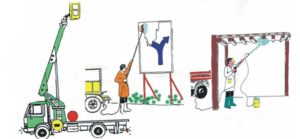 High Pressure Cleaning system for Work platforms, Earth moving machines and Cranes
The Neròn pump mounted in any part, connected directly to the main hydraulic system of the work platform, takes advantage from it , saves costs and provide high pressure cleaning system for numbers of different applications as:
Pressure water cleaning of high buildings, bridges and monuments
Removing plant-louses, rust, old paint, damaged surfaces or black of smokes from buildings and or monuments
Concrete scarification and repair
Cleaning of pipes and gutter pipes
Cleaning, sandblast, jet, spray of pipes
Chemical treatment
The use of work mobile platforms has become more and more common now a days. Pressure fluid techniques quite often must be realized in mobile use at large working height or wide side extensions. Mobile work platforms can cover such application but they so far needed external power supply or additional power packs with difficult handling, expensive investments and large volumes and weight to be carried along with.