High Pressure Hydraulic Water Pumps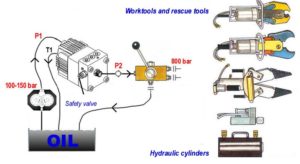 System of High Pressure Hydraulic Water Pumps
Lets know more about the benefits and use of High Pressure Hydraulic Water Pumps and how this can give power to any Hydraulic tools | Rescue Scissors | Spreading Tools | Hydraulic High Torque Wrenches | Rescue and Lifting Cylinders | Tree Scissors | Pressing,  Caulking and Tensioning Tools.
Hydrostatic pressing for sintering and production of ceramic parts.
Hydraulic presses using increased pressure in the speed cycle and safe ultra-high pressure at low speed, thus allowing the higher load capacities of seals at low speed as well as allowing smaller and cheaper cylinders.
Automation and production controlled cutting, contouring, shaping or removing of sharp edges.
Blowing and expanding of pressure vessels production of metals bottles, twin-walled safety tanks or autoclaves, blowing rock bolts for ceiling support.
Deformation of metals stretching of tanks or pipes, cold caulking of large rivets, assembling by deformation.
Pressure and tightness checks for pressurising pipes, hoses, test rigs, pressure vessels and bottles.
Re-railing, servicing and fire fighting vehicles to use hydraulic tools in case of road or rail accidents with working pressure from 500 to 700 bar.
Safety cracking rocks and concrete to avoid explosions.
Tensioning of steel bars within tensioned concrete.
On hydraulic work platform to cut tree branches by means of hydraulic scissors to avoid the use of noisy and dangerous chain saws, to fasten large screws and nuts. Any tool for servicing and assembling devices working at ultra high pressure can be driven in the work platforms.
Demolition scissors to cut old concrete reinforcements and pipes therein, cables into pieces to allow easy transportation, recycling and storage. With the Neròn pressure intensifier a pressure of 900 bar can be reached, no additional hydraulic control or circuits are required, no additional manual control is required, air bubble problems eliminated by continuous oil displacement, fully automatic pressure boost.
Demolition spreading tools with integrated valve to allow the cylinder closing in a speedy way allowing the oil flow coming from the machine.
On the drilling machines to pull, adjust, lift or move heavy material, operate rescue tools like hydraulic scissors or spreaders, for pressing, caulking and tensioning work, for hydraulic assemblage and disassembling by expansion tools. Cracking rocks by inserting expansion tools, tubes or hoses into holes drilled into rocks to replace dynamite blasting.
On the excavators with high torque wrenches to fasten large nuts, to stretch steel bars within tensioned concrete, to cut steel with hydraulic scissors, to move and position large masses or weight, to repair at high height.
On the trucks and pick-up trucks to use hydraulic tools for maintenance road works, rail works or site works.