Fishing Boats, Vessels and Fish Farming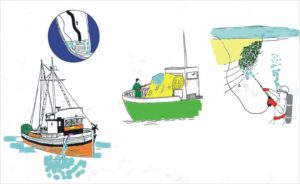 High Pressure Water Pumps for Fishing Boats, Vessels and Fish Farming
Neron Pumps produce High Pressure Pumps for Fishing Boats, Vessels and Fish Farming. Following to the latest rules related to the alimentary health it is more and more necessary to keep the fishing boats and the breeding places clean and disinfected.
Fishing vessels are equipped with quite powerful hydraulic systems to operate winches, fishing equipment or the rudder.
The HWB can be easily connected to the hydraulic system to provide professional effects: just a connection to an available pressure oil line is needed for.
Cleaning lobster traps and fishing nets
Cleaning of the breeding nets to allow a better growing
Maintenance of vessels and equipment: deck, hull, bilge and pipes can e easily service by pressure water techniques
Removing rust, oil paint and algae, once sand or other granulate is added to the high pressure jet, rust and old paint can be blasted off. Gentle rust protection can be added to avoid early rust development even if salt water is used.