High Pressure Subsea Pumps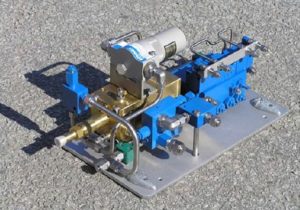 HIGH PRESSURE SUBSEA PUMPS & ROV APPLICATION (Fluid Injection System compact)
Neron Pumps Produce High Pressure Subsea Pumps and ROV Application. The Bennex Fluid Injection System detailed in this Product Data Sheet is one of a range of systems suitable for multiple pressure range. This unit was supplied to Technip Offshore as part of a two system order. These units will be used to Hot Stab and seal check during ROV operations in West Africa.
The Unit is designed to meet the pressure requirements of the client and due to the design different pressures can be set if required.
This unit is designed to allow very easy installation and can be operated from all standards work class ROV systems.