High Pressure Washer System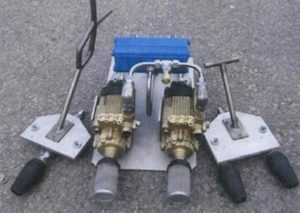 High Pressure Washer System for Absolute Washing and Cleaning
Neron Pumps produce Pumps that can be used for High Pressure Washer System. This unit is designed for harsh environment operation, long life and easy maintenance. The unit can be installed on all work class ROV systems and is supplied directly from the Rov hydraulics.
It can also be directly supplied from a surface power pack for top side applications, such as Deck Cleaning, Net cleaning and any industrial applications. The unit comes with a flow divider for  the input side to ensure each Neron intensifier receives a balanced input flow.
This dual system allows a much larger flow than the standard single units and can be supplied with a nozzle bar containing up to three turbo nozzles. This gives a larger cleaning area and thus decreases the cleaning time.
This unit can be supplied with a standard sized mounting plate for direct bolting to ROV frame. This gives the operator a choice of input flow and pressure to match ROV supply and operation being performed.