Concrete Book Pumps, Trucks & Concrete Mixers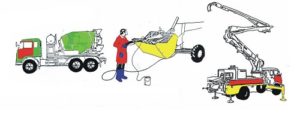 High Pressure Washing of Concrete Trucks and Concrete Mixers
These vehicles very sophisticated and expensive are preferably used in no-stop operation to pay out quicker. During working operations in the areas of the filling grid, in the mixing impeller, in the mouth piece and various internal surfaces of the container, the concrete can accumulate in any corners and edges and gets hard.
On respect to the cleaning with hydroelectric acid, replaced because environmentally hazardous, or low pressure cleaning systems, replaced because causing large water consumption, the Neròn pump causes no environment damages, allows frequent and careful cleanings with low water volumes, and assures the optimal functioning of the concrete pumps.
The high pressure pump used at the yard or on the road is absolutely necessary to:
Clean the vehicle in all its parts, internal surfaces and wheels, to avoid dirty roads
Ensuring complete removal of concrete encrustation
Remove rust, paint, old and damaged surfaces with sandblasting system
Clean the concrete pumping equipment, the concrete hoses and tubes
Eliminate the concrete from the loading wagon
When the concrete is sprayed in tunnel construction, with the Neròn pump, mounted on the concrete pump, a silicate compound is added to the concrete jet, allowing the immediate hardening and setting. The dosage of silicate and the injection pressure are adjusted by simply varying the oil flow at the P1 inlet port. By using the Neròn pump for the high pressure washing of the equipment it is guaranteed the hoses cleaning to avoid silicate build-up.